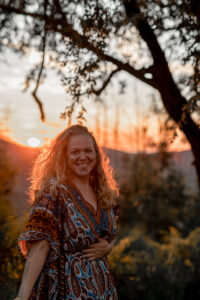 Kasham reaches into the depths, using her strong intuition to create a safe space for personal transformation. She has been initiated in Peru as a Curandera, serving medicine as a sacred form of healing. 
Kasham knew since she was a young child that she wanted to help others. She has been an Intuitive since childhood. The first career aspiration she had was to be "an ambulance driver." (She graduated from paramedic school in 1998.) During her life, she can see how each career choice, each experience, each teaching moment, has supported doing this work. Although she's been helping others heal since the mid '90s, the medicine path was never on her radar. The medicines themselves chose and taught her. Once she accepted this path, trusted/experienced teachers and mentors showed up to help guide her and confirm best practices. She grew up in the US, but has lived in Haiti, South Korea and now Portugal, sharing her gifts in these countries, as well as multiple other countries for short term trips. As she lives and travels abroad, Kasham continues to improve her language skills (fluent in Haitian Creole, conversational in Spanish, French, and Korean; beginner level Portuguese) and more importantly, integrate diverse cultures into her life.
In 2013, Kasham completed the Advanced Angel Tarot Card Reader course from HayHouse Publications. She is a member of the  International Energetic Healing Association, and is an Internationally Accredited Shamanic Practitioner.
Kasham is able to communicate in English, Haitian Creole, and is conversational in French, Spanish, and basic Korean.
Events with Kasham